Is health really for everyone?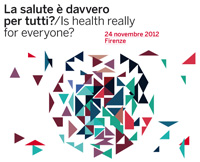 Conference and round table
Cenacolo Sant'Apollonia, via 27 Aprile 1, Firenze
Saturday
24th November 2012
Is health really for everyone? How is social crisis affecting Italy and Europe? What kind of healthcare models are we tending towards?
In an open meeting, experts in public health from four different Countries will exchange ideas and outline a scenario of the current situation, highlighting possible prospects for the years to come.
Event open to the public.
Program.

For further information: globalhealth@cuamm.org